Founder Anatoli Unitsky has announced Skyway Capital is being rebooted as Unitsky String Technologies.
In a press release issued on November 24th, Unitsky stated
due to various circumstances, the company returned to its historical name.
Techsmoothy has been tracking the Skyway Capital Ponzi scheme since 2016. I've never heard of "Unitsky String Technologies".
The rebranding also coincides with Anatoly now going by "Unitsky" instead of "Yunitskiy".
Consistent with Unitsky's bizarre representation that Skyway Capital has nothing to do with his Skyway Technologies company (despite them all being the same company), Unitsky claims the reason for the reboot is to
dissociate from those investment funds whose activities may mistakenly include the functioning of our engineering organization, which has nothing to do with attracting investments carried out around the world using the SkyWay brand.
You can see this at work in the press release. Just a few paragraphs down, Unitsky goes on to state:
Everyone knows that the main part of the investment that went to the development of string transport by Unitsky String Technologies Inc. was attracted under the crowdinvesting scheme, through some fund companies independent from the developer company and non-affiliated with it, networks of business angels and enthusiasts who worked within the framework of partner programs offered by fund companies.

Such a financing model has demonstrated a high level of efficiency and allowed to pass a long way in technological development and product creation within a short time.

However, it has also led to some other consequences, due to the fact that in many countries there is no clear legislative framework for crowdinvesting, which is regarded as an investment mechanism with increased risks.

In this regard, the financial regulators of some countries have issued warnings about the possible danger of investing in a number of fund companies that used the word and brand "SkyWay" in their names (First SkyWay Invest Group Limited, Skyway Capital Ltd, Sky Way Invest Group).
Skyway Capital doesn't operate as an investment fund, it's called a "crowd investing scheme".
Said, "crowd investing scheme" attracted the attention of regulators, but they don't know what they're talking about because "crowdinvesting" totally isn't an investment.
Anyway, we've changed our name now so give us more money?
Over the years Skyway Capital has received fraud warnings from Estonia, New Zealand (2018 and 2020), Greece, Germany, Slovakia, the UK and Spain.
Rather than acknowledge fraud and admit Skyway Capital is a Ponzi scheme, Unitsky states;
The fact of such a warning, of course, does not indicate the dishonesty in the actions of these companies, but it cast a shadow on the SkyWay brand itself, and also negatively affected the brand of the developer of string transport – Unitsky String Technologies Inc.
Riiiiiiiighhhh…..t.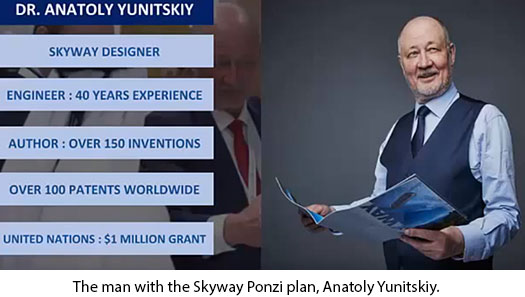 Looking forward, following the failed "train in a paddock in Belarus", "train in a sand lot in Dubai" crypto misadventures and "moon train" marketing ruses, Unitsky's next marketing ploy is cargo transport.
We are now entering the market with our urban passenger complexes. Cargo solutions will be the next.

A pre-stressed string-rail overpass (the most difficult and expensive in them) will be exactly the same as in passenger transportation.

We have already demonstrated loading and unloading terminals. It remains to make small improvements, and we will be ready to offer these complexes to the market.

Then – probably the most difficult and one of the most promising areas – high-speed transport and infrastructure complexes (speeds up to 500 km/h).

If everything goes as planned, we will be able to bring them into the world market by 2025.
If new investment plans and an accompanying Unitsky String Technologies compensation plan is released, BehindMLM will publish a full review.
Till then, the real takeaway here is that Skyway Capital has been running its Ponzi scheme on the basis of passenger monorail technology.
Despite testing commencing in 2015, to date, not a single commercial Skyway Capital train system exists anywhere in the world.
Plenty of investor losses though.